2023 Arizona Firearms Festival Is Here On Nov 18th.
Are you waiting for the Firearms Festival? It's here on Saturday, November 18, 2023!
Get ready to join this great festival to meet the best folks and vendors.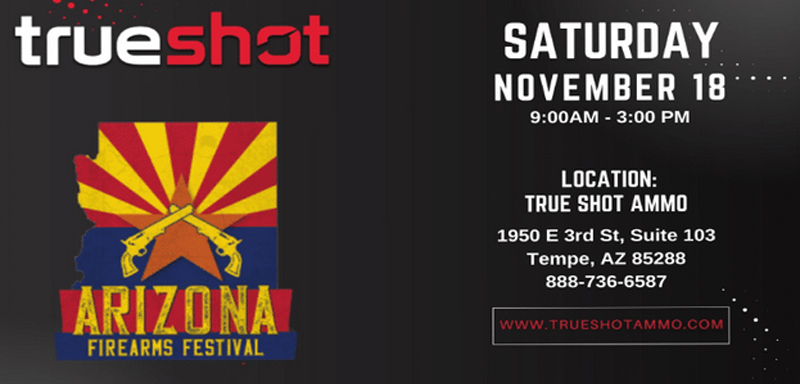 True Shot Ammo is going to host a one day festival at its flagship store in Tempe.
Event is FREE and open to the public.
Don't wait & grab the opportunity to enjoy an exciting experience with over 30 vendors from different industries. Find great deals on ammunition, cool demonstrations of tactical stuff, and lots of other fun things to check out!
Don't Miss The Giveaway
On this occasion, True Shot Ammo is giving away ammunition, accessories, and more. So, hurry up & submit your information at their official website here & join now!
Giveaway Eligibility
To enter Giveaway, you must be at least 21 years old .
Your presence is essential at the time of the drawing to win.
The Giveaway is open to legal residents of eligible jurisdictions where not prohibited by law.
What's Unique At The Arizona Firearms Festival 2023
No Admission Fee!
Yes, it's true. True Shop Ammo believes that everyone should have access to the world of firearms and tactical gear, so they are offering FREE admission!
A Diverse Range of Industry Vendors
Find over 30 top industry vendors all in one place. It's your opportunity to directly engage with manufacturers and discover the latest firearms industry products and technologies.
Exclusive Deals on Ammunition
True Shot Ammo, your trusted source for ammunition straight from the manufacturer, is offering festival-exclusive discounts on a wide range of products. Don't miss these unbeatable deals!
Live Tactical Demonstrations
Learn from the experts! Experienced tactical demonstrations provide hands-on knowledge and insights into advanced firearm handling and safety procedures.
Music, Game & Food
Enjoy games and activities suitable for the whole family, groove to live music, and savor delicious local food truck offerings.
Exciting Giveaways
Don't miss your chance to enter and win incredible prizes, including firearms, accessories, and more.
Event Location & Time
True Shot Ammo is hosting this festival at its flagship store: 1950 E 3rd St, Suite 103, Tempe, AZ 85288. Easily accessible parking is available for you.
Date: Saturday, November 18th, 2023
Location: 1950 E 3rd St, Suite 103, Tempe, AZ 85288
Time: 9AM-3PM
Admission: FREE
Final Words
Enjoy the Arizona Firearms Festival 2023 absolutely free. Celebrate your love for firearms with a wide array of vendors, exclusive ammunition deals, and a range of activities.
So, don't wait & join a day of enjoyment, education, and excitement with your family and friends.