10mm Ammo For Sale
10mm Ammo For Sale - Compare Prices on Hot Deals for 10mm Ammo.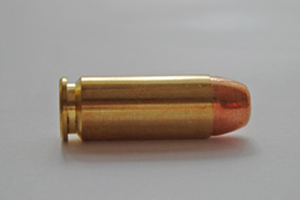 10mm ammo is a good choice for training, personal defense, and hunting. If you want to buy 10mm ammo, it's very time-consuming to find the best deals. As there are various trusted sellers in the industry, it is still long-delayed to find the best & affordable products by visiting multiple websites one by one. At that time, ammo directories can be a time saver for you. There are many good ammo directories like Ammo Seek, Ammo Buy & Bulk Cheap Ammo.
Directories are an excellent place to find & compare the same products from various retailers at the same window. No need to scroll through google again & again. Get all ammo stock just in one click & order from the retailers that suit your budget & requirements.
If you are searching for the best deals for 10mm ammo, we've got it all listed on our website. Find 10mm auto in bulk and single-box orders. We have listed 1000+ 10mm ammo for sale from industry top sellers Sportsman Guide, GrabAGun, Bass Pro Shops, Outdoor Limited, Firearms Depot, and many more. Our product specifications & similar product features help find & compare in-stock deals in one place.
Let's jump into a bit more detail on 10mm Ammo.
About & History of 10mm Ammo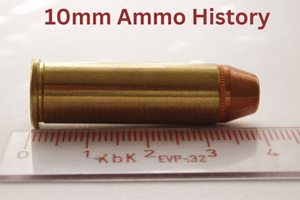 As every gun owner knows, 10mm is a multi-talented round. Whether taking it out on the range or in the field, 10mm ammo will always be a good option with its velocity and stopping power.

The 10mm Auto has a cartridge case capacity of 1.56 milliliters (24.1 grains H2O). It can be used for competition, recreational shooting, home defense, and hunting medium to large games.
10mm Auto is a semi-automatic pistol cartridge introduced in 1983. Its design was adopted and later produced by ammunition manufacturer FFV Norma AB of Amotfors, Sweden.
If you want to add a little spice to your ammo collection, invest in Armscor 10mm ammunition. 10mm is closer to 9mm ammo in size. You get capacities closer to 9mm too.
10mm Auto is available in various bullet types like FMJ, Hollow Points, Soft Point & more.
Quick Facts About 10mm Ammo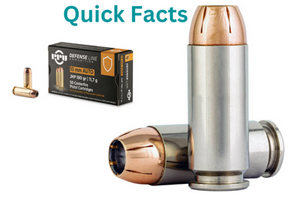 The 10 mm bullet is one of the powerful semi-automatic handgun cartridges.
10mm Ammo is a good option for hunting, defensive, and tactical use.
The 10mm Auto cartridge has more power than the more popular choices.
10mm ammunition is available from 60 to 205 grain bullet weights.
The 10mm gave birth to the 40 S&W ammo.
Reloading for the 10mm is easy because both cases and bullets are large and easy to handle.
Good weight retention and accuracy.
Some 10mm bullets offer consistent performance at up to 50 yards.
The 10mm shares bullet and case diameter with the .40 S&W. Both use a .400 inch diameter projectile.
Types of 10mm Ammo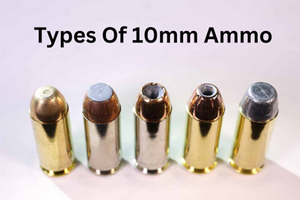 Choosing the correct type of 10mm ammo is essential for accurate shooting results. 10mm ammo is available in various bullet designs like FMJ, JHP, Hollow Point, Soft Point, Flat Nose, and Lead Flat Point. Solid copper & many more.

Two bullet designs stand out more than others: the FMJ and JHP.
Full Metal Jacket (FMJ): FMJ projectiles are full metal jacket bullets. These bullets are chosen for competition shooting, target practice, and plinking. The speed and penetrating power of 10mm FMJ rounds are usually superior. FMJ rounds are some of the cheapest 10mm ammunition available.
Jacketed Hollow Point (JHP): JHP rounds, on the other hand, are jacketed hollow point rounds that inflict maximum damage.
Hollow Point: 10mm Ammo hollow point bullet types are good choices for hunters and in self-defense situations. Hollow points are a more expensive round than FMJ but are a better self-defense round overall.
Soft Point: 10mm Ammo soft point bullets are seated in top-of-the-line brass cases, with carefully matched primers and powder charges to ensure reliable and consistent performance.
Flat Nose: 10mm Ammo flat nose bullet types give more accuracy on your targets.
Most Popular 10mm Ammo Brands And Manufacturers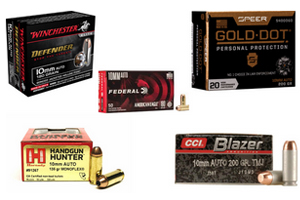 10mm ammo is a good option for self-defense, hunting, and affordable plinking.

10mm Auto is a larger handgun cartridge; it requires more material to produce and is, therefore, more expensive. It's less popular than 9mm ammo, so your options for purchasing factory ammo will be fewer because of its less production.
10mm ammo product production may be less, but not zero. Many trusted brands manufacture 10mm ammo.
Let's pick the top 5.
Federal: Take down anything from hogs to bears with Federal Premium Solid Core. Federal 10mm calibers are constructed primarily using bras that provide accuracy and power. The most popular Winchester 10mm ammo product lines are American Eagle Handgun, Personal Defense HST & Trophy Bonded Bear Claw Handgun.
Winchester: To produce 10mm ammo, Winchester products far exceed performance expectations and earn high praise in the field. Manufacture high-quality ammunition to suit a wide range of hunter's and shooter's needs. Their most popular product line for 10mm ammo is Defender, USA, Silvertip, USA Ready, and USA Ready Defense.
Hornady: Hornady manufactures custom ammunition to give shooters and hunters the advantage of hand-loaded accuracy in a factory load. The handgun hunter is the most popular Hornady 10mm ammo product line, which is an ideal choice for all shooting purposes.
CCI: CCI 10mm ammo features reloadable brass cases, quality primers, and clean-burning propellants. CCI Ammunition 10mm Auto ammo product lines include Blazer Brass & Blazer Aluminum for practice.
Speer: 10mm Auto is a reasonably new addition to Speer's iconic Gold Dot line. The Speer Gold Dot 10mm Auto 200 grain, Gold Dot Hollow Point Ammo comes with sealed primers and nickel-plated brass. Their Gold Dot Handgun Personal Protection line product is a good choice for self-defense.
Common Firearms That Fires 10mm Ammo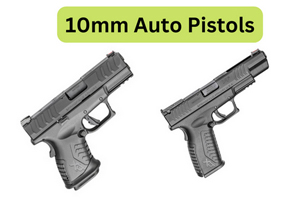 The 10mm is a well-known handgun cartridge designed for hunting & self-defense. You can use these rounds for bear protection & for a pleasant plinking experience.

Now the question is, "what are the best guns to fire 10mm ammo?

There are many good options from trusted brands, including; Glock, Smith & Wesson, SIG SAUER & many more. You can choose according to your needs.
Glock 20
Glock 40
1911 10mm
M&P 10 2.0
P220 Legion
P320 XTen
XD-M
TAC Ultra
TAC Ultra MS
XD-M Elite
Use Types of 10mm Ammo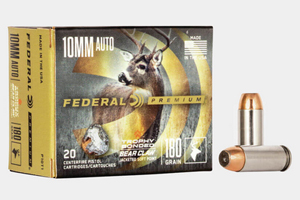 With time, 10mm ammunition has become a popular choice for home defense and personal protection & used by law enforcement personnel and some armed forces members worldwide.

The 10mm caliber is an excellent option for any defensive duties. 10mm caliber is a good option to stop a grizzly bear.

The caliber is effective for punching a deer tag within the effective range of the cartridge. These loads are specifically designed for hunting big game and are much too hot and heavy for concealed carry.
Some retailers offer 10mm Ammo by its use type. That will help you choose a specific product for a particular need.
Deer Hunting
Indoor Rang
Match Shooting
Range Training
Self Defense
Wild Boar Hunting
10mm Ammo Bullet Weight & What is Better?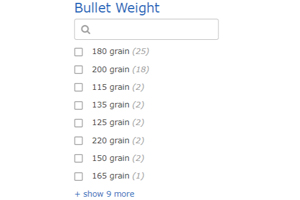 There are many great options when buying 10mm ammo by bullet weight.

It's currently available in various grain options for 60, 95 grain, 100 grain, 115, 124, 125, 130, 135, 150, 170, 200 & many other options.

Now, what is the best bullet weight for 10mm Ammo?

The 10mm is at its best balance of speed & weight with the 180 gr bullets.
Specifications of 10mm Ammo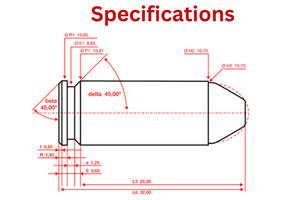 As per the 10mm Ammo specification, it's important to note that different ammunition manufacturers may have slightly different specifications for their specific 10mm ammo loads.

So it's always best to check the specific details of the ammo you are using. The velocity and energy will vary depending on the particular bullet weight and barrel length of the firearm being used.
Overall Specifications of 10mm Ammo:
Use Type: Pistol
Bullet diameter: 0.400in
Neck diameter: 0.423 in
Base diameter: 0.425 in
Case length: 0.992 in
Overall length: 1.25 in
Case Capacity: 24.1 Grains
Max Pressure (SAAMI): 37,500 psi
Pros of 10mm Ammo and its search stats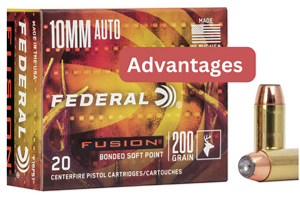 As per 10mm ammo search stats, it is known as one of the best calibers for hunting. As per google's monthly search volume, 4.5K (as of 2023)* users are searching for 10mm ammo.

Now the question is, "why are so many people searching for 10mm ammo over other suitable calibers like 9mm & more?

Every type of ammunition has a specialty that makes it different from others. Let's talk about some advantages of 10mm ammo.
Good power & range caliber: IF you want to touch your target with high capacity and a flat shooting cartridge, then 10mm is the round for you. Its offerings are unbeatable for a handgun cartridge.
Good caliber capacity: 10mm can squeeze between two to three extra rounds. It's more commonly available in a double-stack platform.
Availability: 10mm ammunition can easily be found and purchased online and throughout most ammo shops.
Accuracy: 10mm will keep you covered with its velocity and stopping power. In the field, 10mm works as a good round for handgun hunting or as hunting backup.
FAQ's 10mm Ammo
Q: What is 10mm ammo used for?
Ans:10mm Ammo is a good option for personal protection and home defense / hunting. With time it's becoming popular with law enforcement personnel and some armed forces members.
Q: What is the best 10mm ammo for self-defense?
Ans: There are many good 10mm ammo options for self-defense. Certain types, like FMJ & JHP, are good options for self-defense.
Q: Is 10mm ammo readily available?
Ans: 10mm ammo is available everywhere but a bit costly compared to 9mm ammo.
Q: Is buying a 10mm worth it?
Ans: Yes, 10mm ammo is worth buying. It's a good option for self-defense & hunting with accuracy & more shooting power.
Q: How far can a 10 mm shoot accurately?
Ans: 10mm ammo is a good hunting & self-defense caliber that has minimal drop out to 100 yards.
Other popular searches for 10mm Ammo
10mm ammo in stock
10mm ammo 250 rounds
10mm bulk ammo
10 mm bullets
10 mm ammo
10 mm bullet
Browse our other popular product listing for : 5.56 Ammo, 223 Ammo, 22lr ammo, 300 blackout, 6.5 Creedmoor ammo & more.
Top 10 10mm Ammo Deals
2A Warehouse Capital Cartridge 10MM 180GR FMJ - Reman Brass - 200rds - FREE AMMO CAN for $71.25

True Shot Ammo Armscor - 10mm - 180 Grain - FMJ for $480.00

Palmetto State Armory AAC 10mm Auto Ammo 180 Grain FMJ 50rd Box for $19.99

Top Gun Ammo Magtech - 10mm - 180 Grain - Full Metal Jacket (1000 Rounds) Free Shipping for $398.99

Canoe Club USA 10MM 180GR TMC AMMO INC (1000 rounds) for $399.99

Sportsman Fulfillment Federal AE10A American Eagle 10mm 180 GR FMJ 50 Rounds for $19.99

True Shot Ammo Sellier & Bellot - 10mm - 180 Grain - FMJ for $409.99

True Shot Ammo Magtech - 10mm - 180 Grain - FMJ for $409.99

Caliber Armory Blazer 10mm Ammunition 200gr Full Metal Jacket (50 Rounds) for $20.69

Foundry Outdoors Sellier Bellot 10A Handgun 10mm 180 GR Full Metal Jacket 50 Bx/ 20 Cs for $20.73