Bulk Ammo For Sale
Find Best Bulk Ammo Deals From Top Online Ammo Dealers.
What is Bulk Ammo?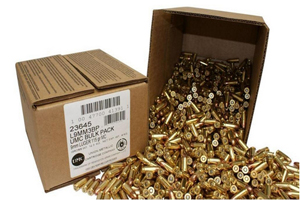 Bulk ammo is a term used to buy ammunition in boxes or cases. Buying ammo in bulk is a great way to save your time & money on your favorite ammo. Bulk ammunition can be in the case and box packaging.

Bulk ammo is commonly available in popular calibers such as 9mm, 5.56mm, .40 S&W, .45 ACP, and .223/5.56mm, but it can also be found in a variety of other calibers such as .308 Winchester, 7.62x39mm, .30-06 Springfield, and more. It's essential to determine which caliber your firearm uses before purchasing bulk ammo to ensure compatibility and safety.
Bulk ammo is typically sold at a lower cost per round than smaller quantities of ammo, making it an excellent choice for shooters who are on a budget or who need to stock up on ammunition for their next range session.
How Many Boxes of Ammo Are In A Case?
Standard box of ammunition is 50 rounds.
Ammunition comes in boxes from 10 to 250 in specialty boxes.
Case of 3,000 rounds.
Defense rounds specialty high expansion hollow point rounds, usually come in boxes of 10 or 20.
Why Bulk Ammo May be a Good Choice For Some Shooters.
Bulk ammo can be an excellent option for shooters looking for a more cost-effective way to practice and hone their skills. Often, bulk ammo is manufactured with the same quality and attention to detail as more expensive ammo, so you can be sure it will perform reliably.
Additionally, bulk ammo often comes in larger quantities, ideal for shooters who like to spend time at the range or who need to stock up for hunting season. Ultimately, bulk ammo is an excellent choice for shooters looking to save money while still getting quality ammunition.
Benefits of Buying Bulk Ammo.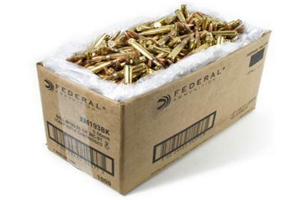 Buying and storing "bulk ammo" can be a great way to save money and time.

Purchasing ammo in bulk is often more cost-effective than buying in smaller quantities. Buying bulk ammo means you'll have a larger supply, which can be convenient for frequent shooters or long training sessions.
Buying in bulk can also reduce shipping costs per round, as you'll order fewer times. When you buy bulk ammo, you'll often receive the rounds in larger containers with less packaging waste, which can be better for the environment. Buying in bulk can also ensure you have enough ammunition, even during high demand or shortages.
Here are several benefits to buying and storing bulk ammo, including:
Cost savings
Convenience:
Quality control:
Preparedness:
Save money on shipping costs.
You may find free shipping as well.
Lock in availability.
You get the ability to negotiate.
Factors to Consider When Buying Bulk Ammo
When it comes to buying bulk ammo, there are a few factors to consider: You should ensure you buy the correct type of ammo for your firearm. Different firearms require different calibers, so it is essential to make sure you purchase the right type.
You should consider the quality of the ammo. Make sure you buy from a reputable source with quality control procedures.
Consider the price. If you are buying in bulk, you want to ensure you get a good deal.
Determine if you have adequate storage space to store the bulk ammo safely.
Consider the shipping and handling costs and timeframes when purchasing bulk ammo.
Check your local laws and regulations regarding the purchase and storage of ammunition.
Bulk Ammo Storage.
Storing bulk ammo is a concern for many gun owners. It is advised to keep your ammo in a cool and dry place. Ammunition manufacturers claim that their ammunition should be good for ten years at least. Here are some tips to keep your bulk ammo safe for you and your family.
Ammo cans are one of the most effective ways to store bulk ammo. Ammo cans are great as long as the seal is intact.
Store in a cool and dry place.
Avoid extreme heat, which can cause your ammunition to expire prematurely.
Long-time storage? Keep it in its original packaging.
Maintain a low-humidity environment.
Where to Buy Bulk Ammo?
Bulk ammo can be purchased in large quantities from various online retailers. Here are some options for buying bulk ammo in large quantities:
Ammunition dealers and manufacturers: Some ammunition dealers and manufacturers offer direct sales to consumers, allowing you to purchase bulk ammo in vast quantities. This can be a good option if you're part of a shooting club or need large amounts of ammo for other reasons.
Online retailers: Online retailers like Ammo.com, Palmetto State Armory, and Brownells offer a wide selection of bulk ammo in large quantities. These retailers often offer discounts for bulk purchases, making it an attractive option for those who shoot frequently.
Local gun stores: Many local gun stores offer bulk ammo in larger quantities than standard boxes of ammunition. If you're purchasing in large quantities, be sure to ask about potential discounts or special pricing.
Gun shows: Gun shows can be a great place to find bulk ammo in large quantities. Doing your research beforehand is essential to ensure you're getting a fair price and to check the seller's reputation.
Remember that it's essential to comply with all local and federal laws and regulations when purchasing and storing bulk ammo. Additionally, it's essential to store ammunition safely and securely.
Final Words
When purchasing bulk ammo, you must ensure that you're buying from a reputable retailer or manufacturer and comply with all local and federal laws and regulations.
Bulk ammo can be a great way to save money and ensure you have enough ammunition for training, target shooting, or other shooting activities. Whether you're a competitive shooter, hunter, or gun enthusiast, purchasing bulk ammo in large quantities can be an affordable and convenient option.
Safety should always be a top priority when handling firearms and ammunition. Be sure to follow all safety guidelines and best practices when using and storing bulk ammo, and seek professional training if you're new to shooting or firearms.
Exclusive bulk ammo deals are available from various retailers. Find bulk ammo for sale from various ammo retailers at Bulk Cheap Ammo. A wide variety of bulk ammo for Rifles, Handguns, Rimfire, and Shotguns.
Bulk Cheap Ammo website helps you to find ammo bulk deals from many sites and compare prices on one webpage. Our website lists affordable bulk ammo deals from various ammo retailers. Now get all ammo deals in one place with just one click from various ammo retailers.
On this webpage, we have listed the bulk ammunition deals from our registered vendors. Some of our registered retailers offer free shipping on all bulk ammo. Look for the shipping Icon on the search result page. For cheap ammo deals, visit our cheap ammo page.
Find your ammo fast by using our quick search features. We have listed all the most popular calibers you want to search for online. Please use the top search to modify the quest to find the right ammo type to find your ammunition fast & quickly.
Frequently Asked Questions About Buying Bulk Ammo.
Q. What is bulk ammo?
Ans. Bulk ammo typically refers to large quantities of ammunition sold together, often at a discounted price per round.
Q. What are the advantages of buying bulk ammo?
Ans. Buying bulk ammo can save you money in the long run. You can purchase larger quantities of ammunition at lower prices and save on shipping costs. Additionally, you won't have to worry about running out of ammo as quickly as you would if you purchased smaller quantities.
Q. Where can I buy bulk ammo?
Ans. Bulk ammo can be purchased from various sources, including online retailers, sporting goods stores, gun shows, and local firearms dealers.
Q. What types of bulk ammo are available?
Ans. Bulk ammo is available in a wide range of calibers, including popular options like 9mm, .223/5.56, .308/7.62, and .45 ACP. Different types of ammo are suitable for other firearms and purposes, so choosing the right ammo for your needs is essential.
Q. Is bulk ammo cheaper than buying smaller quantities?
Ans. In many cases, buying bulk ammo can be cheaper than buying smaller quantities, especially when purchasing from online retailers or during sales events.
Q. How should I store bulk ammo?
Ans. Bulk ammo should be stored in a cool, dry place free from moisture and direct sunlight. It's also essential to keep ammo from heat sources and store it in its original packaging or sealed containers.