GrabAGun: Check Latest Rebates, Discounts & Coupons
With 2,512 Google reviews, GrabAGun is a popular name in the industry of guns & ammo.
Here at Bulk Cheap Ammo, we have listed the products, latest deals & discounts from Grab A Gun. Shop from 2000+ rounds of ammo that is in stock & ready to ship, including bulk ammo for sale in many popular calibers like 9mm, 5.56/.223, 6.5 Creedmoor, .22LR, and much more.
Grabagun started in 2010 to provide the finest firearms on the market. They also deal in hunting and tactical accessories such as scopes, knives, ammunition, and accessories.
Now the question is, "Why should you go for GrabAGun over other sellers '? Here, we'll tell you a little about the Company, its products, shipping services, return policy, deals & discounts.
About GrabAGun

GrabAGun is a well-known gun shop & online retailer in Coppell, Texas, USA.
The history of Grab A Gun started with Brent Cossey (co-founder) & Justin Hilty (President). They launched grabagun.com as avid gun enthusiasts.
They have immersed themselves in the 2nd Amendment and remain devoted to the hunters, competitive shooters, and collectors.
They've built their brand on value, variety, and outstanding customer service.
Since 2010, GrabAGun has served the industry with a diverse product selection from top brands for Guns, ammunition, gun parts, reloading, outdoor survival gear, and hundreds of other categories. They offer exclusive products, deals & discounts that are hard to beat anywhere else in the industry.
For over 12 years, GrabAGun has improved the firearm industry by making gun and ammo shopping more accessible and competitive.
The Company has an excellent customer service team. The Company will help track down an item and provide a price point for customers who need help finding certain guns on their website.
What Can You Buy At GrabAGun?
GrabAGun.com is one of the largest suppliers of firearms in the country.
The Company mainly sells gear in the outdoor sporting category, including guns & ammo. As one of the largest online gun stores, the Company sells thousands of products by famous brands.
Some of the items you could typically find at GrabAGun include:
Firearms
Ammunition
Gun Parts
Optics & Scopes
Magazines
Gun Parts
Knives & tools
Hunting, fishing, camping gear & apparel
What Is The Price Range Of GrabAGun?
GrabAGun offers great prices, fast delivery, and hassle-free transactions. If you want to buy online, Grab A Gun offers daily deals & discounts on guns, ammo & other related products.
They have dedicated pages for the products with sale & rebate that lists all products with special price & discounts to help shoppers find the gear that fits their budget.
Get 20% Off on your first order of $250+ when you subscribe to receive special email and text offers!
For ammunition, the price range starts from $2.99 for 50 rounds To $548.99 for 1000 rounds.
GrabAGun has firearms listed for as low as $66.49, which is hard to beat.
GrabAGun Discount Code
Everyday GrabAGun offers great deals & discounts on top-selling products. Never miss a sale on your favorite guns, ammo & other gear.
Don't miss to check their special rebate page for "Guns & Ammo Rebates 2023."
These deals & discounts are available online for specific days.
Shipping Services
They use different shipping carriers based on what you buy and where you live. Most handguns arrive in two days, and everything else comes slower by ground.
Be careful: Some things, like handguns and bullets, might not be allowed in your state. Double-check the rules before you buy.
You'll pay a fixed shipping fee if you're in the lower 48 states. But if you buy powder or primers, there's an extra $40 fee because they're risky to ship.
Ask for support before buying if you need clarification on shipping costs, and they'll help you.
What Is the Return Policy Of Grab A Gun?
GrabAGun offers the best return & cancellation services with no charge, provided the order is canceled by 5:00 p.m. on the day of ordering.
30 days return policy. Ammo cannot be returned due to safety reasons.
Why To Choose Grab A Gun?
Wide Selection of products for guns, ammo & other outdoor gear.
The lowest price range with top quality.
Best customer service.
Flat rate shipping on ammo & guns.
Trusted brands include Glock, Smith & Wesson, Ruger, Beretta, and Sig Sauer.
Huge rebates on guns & ammo.
FFL locator tool
30 Days return policy.
Grabagun Reviews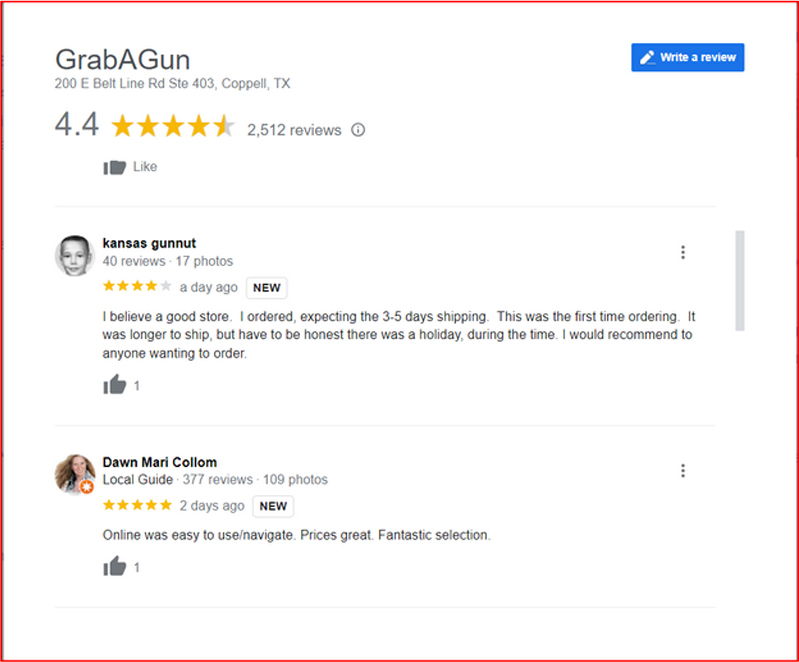 Reviews & ratings are the best way to know the popularity of a brand or product. Grabagun has many positive reviews & ratings on Google, Facebook & many other popular review websites like Reviews.io, Bestcompany.com, Yelp, Resellers Ratings & more.
Check GrabAGun reviews here: https://goo.gl/maps/fh4EfPwPFGvQyg7e7
With 103K likes & 102K followers on Facebook and 4,400 Twitter Followers, GrabAGun is gaining popularity in the industry.
GrabAGun Phone Number
Toll-Free: (972) 552-7246
Fax: (972) 304-6214
Email: support@grabagun.com
Hours of Operation
Mon-Friday: 9 am-7 pm
Sat, Sun: Closed
Address
GrabAGun
200 E Belt Line Rd Ste 403,
Coppell, Texas, 75019, United States