Beware Ammo Buyers - Too Many New Ammo Scam Websites Are Developing!
Ammo buyers, be aware of Ammo Scams websites!
I am Lisa, the content editor at Bulk Cheap Ammo. Recently we audited our website "Bulk Cheap Ammo (https://www.bulkcheapammo.com), & found there are many other scam websites running with our domain suffix & prefix & using our old logo as well.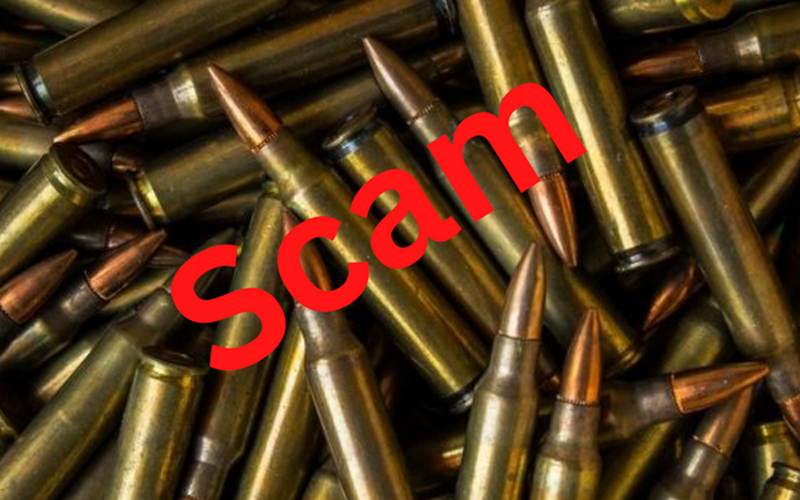 Here is the website URL Copying Our Website Logo or Content:
bulkcheapammoforsale Scam Website
bulkammoforsales Scam Website
bulkcheapammoshop Scam Website
buyingammoonline Scam Website
Please make sure you don't fall for these scam websites, they are just scammers to steal your money.
It's not the last. We researched more & found there are more than 1000 scam websites listed here: https://stopgunscams.com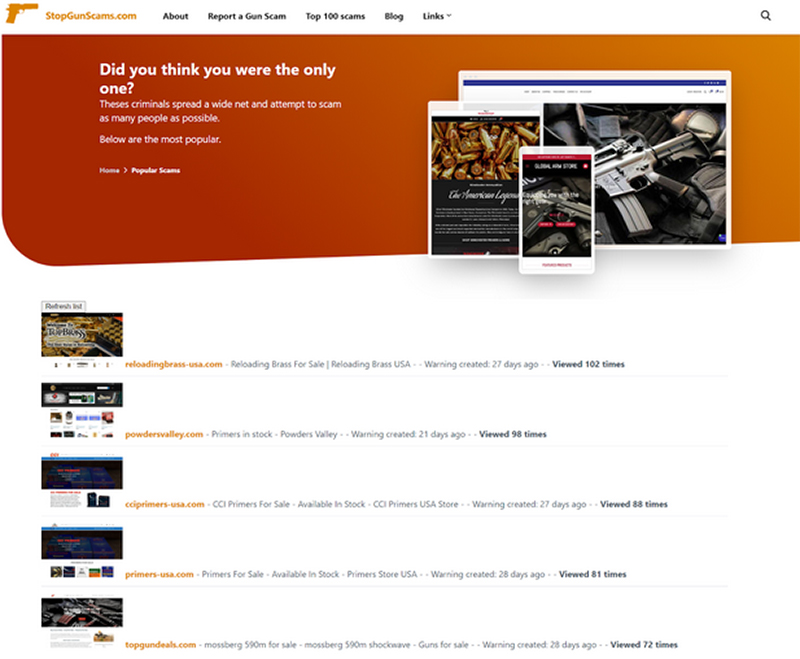 The main reason behind this scam increase is that more and more purchases are moving online. This shift has opened a window of opportunity for ammo scammers.
These scammers are using their domains with industries popular brand names suffix & prefix. These scam sites take customers' money, and then never deliver the goods.
Here are some examples:
primaryarmshop
glockpistolz
grendelammo
These sites should not be confused with legitimate websites of https://www.primaryarms.com/, https://us.glock.com/, which are the manufacturers' or sellers' actual websites that sell ammo directly to consumers.
It would be impossible to round up all the scam ammo sites out there, but a quick visit to a couple ammo, hunting and shooting forums reveals plenty more. Here are some forums who discussed this topic:
1. https://forum.accurateshooter. com/threads/over-1400-gun-ammo-fake-websites-revealed.4072902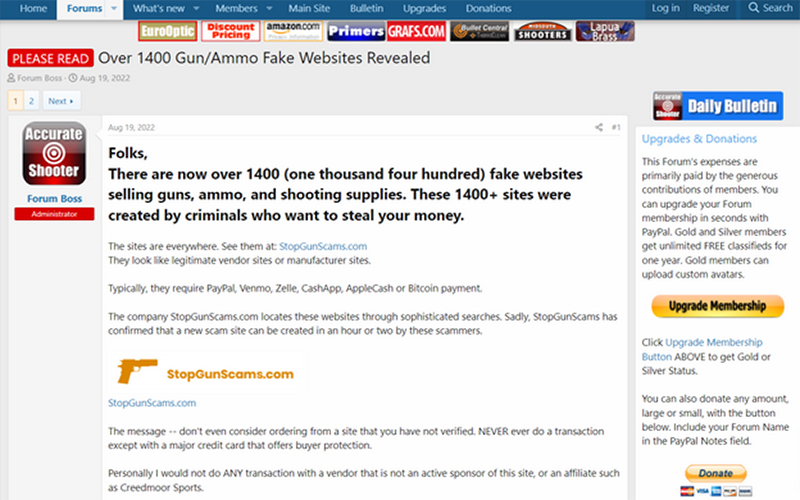 2. https://www.ar15. com/forums/ar-15/List-of-Scam-Ammo-Sites/16-766264/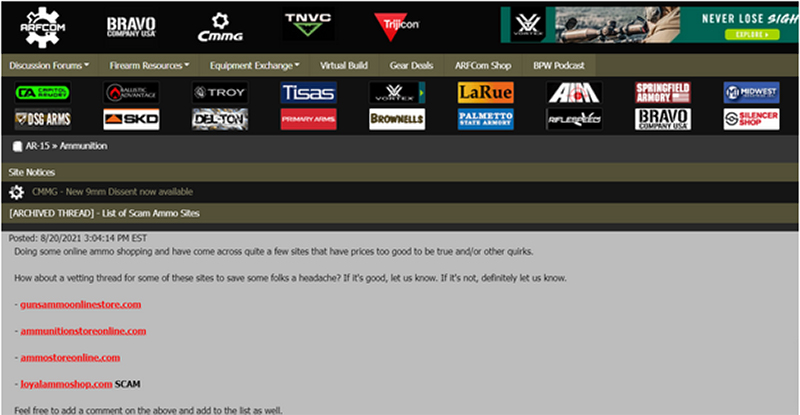 3. https://www.thefirearmsforum. com/threads/ammo-sale-websites-that-are-fake.221813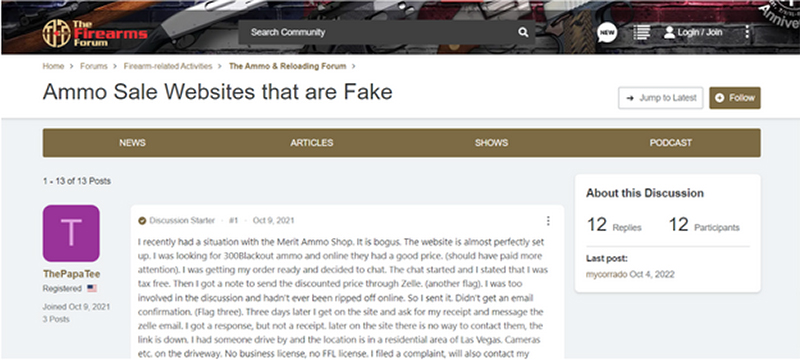 These are some popular ammunition related forums, who are discussing this topic. There are other types of trusted forums & blogs where people are discussing this topic.
How To Identify Scam Websites:
There are thousands of other websites there.
Now the most important question for new ammo buyers is "how to identify the scam websites?
Below we are sharing some steps that will be helpful to identify the fake ammo sellers.
Poor Website Structure & Content
The scam websites have poor structure & content quality. They don't have any special website structure. These types of websites have misspelling in the URL or body copy of the website, Odd looking logos, outdated product photos & broken links.
Like this: https://bulkcheapammoshop. com/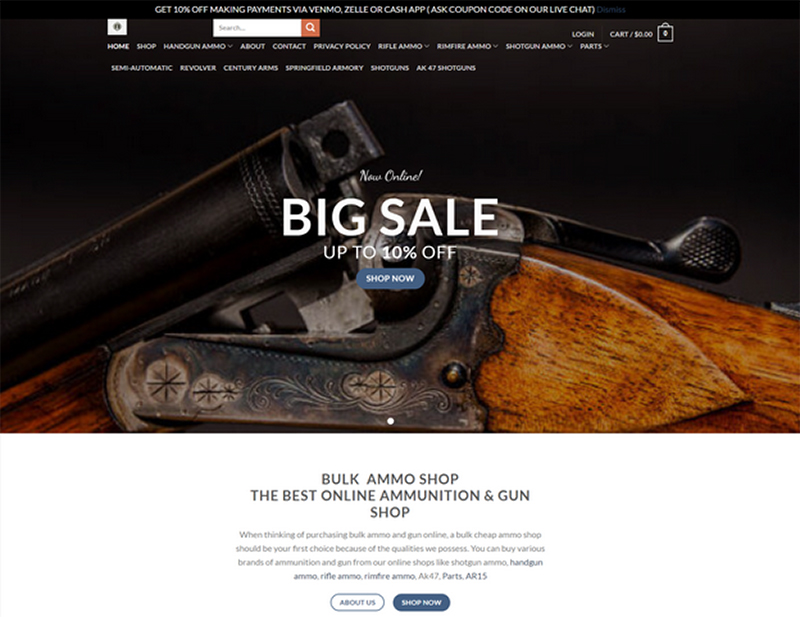 Fake Payment Options
To identify a scam website, the next step is by payment options. If the website says it only accepts payment by Zelle, Venmo, Cash App, or Bitcoin, that's a very strong signal of a scam website.
These websites don't offer a legitimate way of taking payment. None of the scam websites accept credit cards.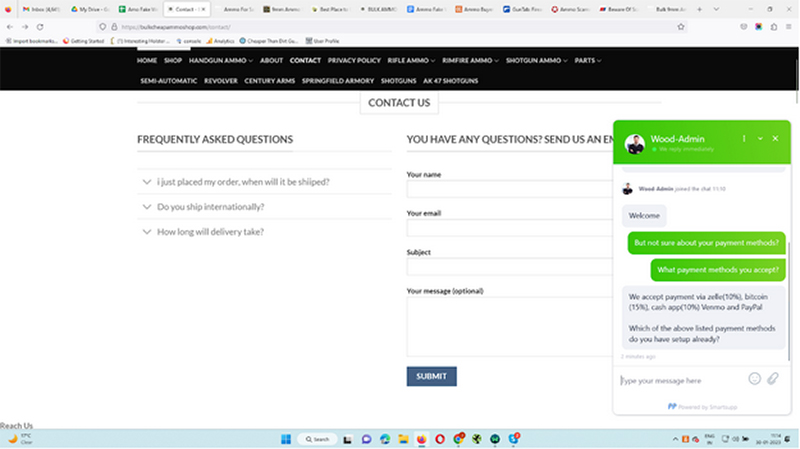 Shipping Policy
These scam sites promise fake shipping policies. Unlike real ammo dealers, they will say that they allow you to ship orders to all 50 states. They don;t mention any rule about the six states that currently have laws restricting online ammo buying.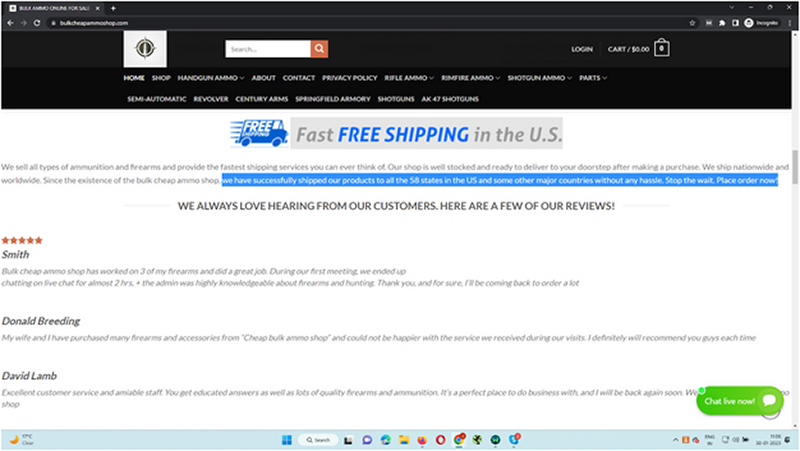 Very Low Price
If you see the extremely low prices, there may be chances of scam. You need to verify the price with the other popular retailers. Scammers promising incredible deals.
Fake Store Address
Scam websites listed fake store locations on websites. You can check the store location vio google map, if that is a real address or fake.
These are some tips that will help you to identify the fake websites.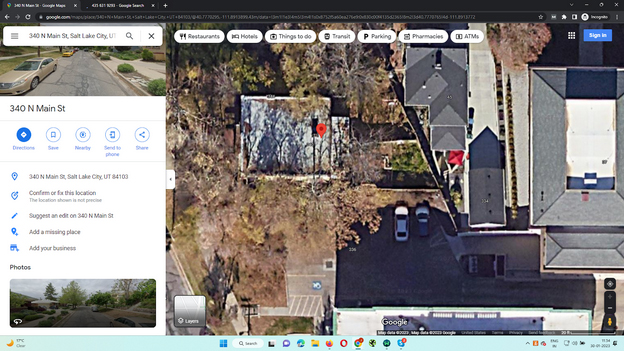 How To Buy Ammo Online?
If you are a new gun owner & buying online ammo for the first time, please take care about some steps.
Find trusted online resources: If you are new, please avoid buying from a new resource. Choose a trusted or industry well reputed seller.
Verify the business address: Always make sure to check the store physical address. Whether it's true or false.
Don't go with lowest prices only: Cheap always doesn't mean good quality. Is good to spend more on trusted sources as compared to spending less on scammers.
Use trusted payment methods. Don't go with cryptocurrency or other fake methods.
And the last "When in doubt, don't buy. If you have any doubt. Don't buy from that place.
Final words
As online ammo buying demands are increasing, scam websites are also increasing. And I think this scam can't be stopped.
So, if we can't stop the scam, we must stop being scammed. Be aware when you buy ammo online. Make sure to follow the steps we mentioned above in the blog post.
Don't buy in hurry, take some time to find good deals & sellers.
Use some trusted ammo directories to find best & trusted ammo sellers.
Ammo Seek
Ammo Buy
Wiki Arms
Bulk Cheap Ammo