Gun Safes – A Necessity To Give Protection For Your Guns.
A gun safe becomes almost necessary when you first buy a pistol as it provides essential protection. However, a gun safe should be selected according to the requirements of the gun owner and, more importantly, the budget.
The price of the safe is determined by its size and whether the safe is fireproof or not. When one has an expensive collection of weapons, it is better to opt for a fireproof safe.
Buying the safe at the same time when the gun is purchased can generate a discount, and if the safes are purchased from specialist dealers, it costs less since even they enjoy discounts from the producers.
For a safe with a larger capacity for 10 to 25 guns, its security can be increased by fixing it to the wall or the floor, and for a small size hidden safe, it would be what one would recommend as a thief without any intention.
Stealing may not resist the prospect of taking it off and then opening it. A good safe keeps both children and unauthorized people away. It is not just theft or fire that a safe will protect against, but also against dust and moisture.
Expensive gun safes provide additional security features, are much more durable, and come with some warranty. Standard features of gun safes, such as 3-point handles, spy-proof, combination locks, and user convertible interiors, are typically included.
Besides being practical and providing a high protection rate, it also fits well in homes and offices with a classic design. Winchester guns, which are from the best gun industries, also provide a warranty; for example, If a fireproof gun safe cannot protect your weapon in the event of a fire, you can replace the safe and claim damages from the manufacturer.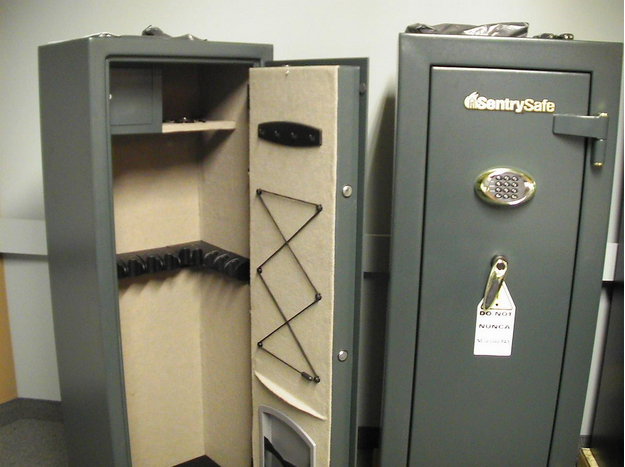 Image Source: wikiwand.com
Types of gun safes
A gun safe is an essential initial purchase whenever you purchase a pistol for the first time. Besides security reasons, there are many other reasons as well. The protection of firearms from curious children can be sought in safes available in the market.
However, only some made of good quality steel can protect guns from thieves. Breaking into the homes of people known to possess firearms and stealing them is how most criminals get their hands on these guns.
The safes are not of the same brand, with the idea of ​​protecting your weapons against theft. When buying a safe gun, one should look for the following. Convince yourself that the safe can be screwed on. If there is something that can stop a burglar from opening a safe, then it is the moment that he would not have in your house.
This explains why the thieves physically remove the entire locked gun safe and take it to a safer location where time is not a constraint to open the safe. Not only ordinary safes but also very heavy gun safes are successfully removed by thieves and carry wheelbarrows with them if necessary.
We must avoid buying a gun safe that cannot be screwed to the floor and even more so to a concrete floor.
The alarm is the next thing to look for. Not all safes have automatic alarms, which the moment someone tries to break into the safe, they go off.
The thieves will have to face pressure to break the bolted safes, and the alarm goes off. This can lead to the total theft of the safe.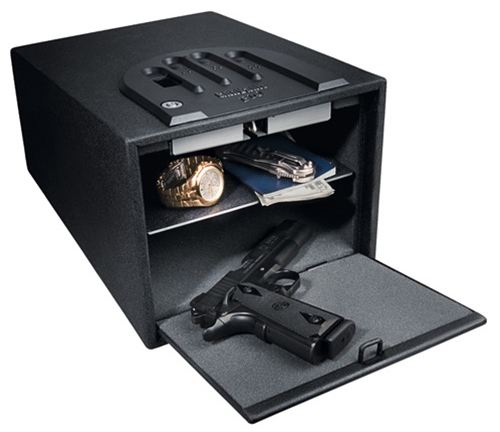 Image Source: wikiwand.com
Utility of Gun Safes
The best way to manage our cabinet, mug board, or gun safe is possible through a firearm rack. Guns are allowed to rest vertically and on the cabinet or rack, maximizing the use of shelf space. After purchasing a gun safe, you should also keep your firearms organized in the safe to be easily accessible even when an emergency arises.
A single or double grip ATV rack can be considered if one is on the move and has the view for a safe and easy way to organize all of your weapons or lean with yourself as the case may be.
1PC rubber-coated material is used to save space. Square or tubular-shaped rails have an offset design or can also be utterly flat load racks. The frame of this genre accompanies soft rubber pins and spurs that are useful for holding gears firmly.
If one has in mind to take their 4-wheelers / ATVs to any level of challenging and stringent testing, then it becomes even more critical.
To store a gun rack or a rack for later use in the truck, in that case, you can choose the following options. The first suggestion is that one should look for a double weapon rack.
Sport utility vehicles, extended cab pickups, and 2 "headroom pickup trucks are used by this roof mount frame. Visibility from windows can be maximized with the use of firearms.
Ceiling mount alternatives can be kept out of sight of these guns. Installing these guns is not difficult, and additionally, they can hold two boxed or non-boxed shooters, rifles, or short pistols with much greater security.
Attachment straps or racks do not affect the sights of this type of weapon rack. All mounting accessories must accompany one or more Weapon racks.
Gun safes: how can they help you?
If you want to avoid a tragic accident in your home, you should always keep your gun in a safe. It would help if you understood that the safe could also protect your gun from thieves and unwanted people, and the cost of purchasing the safe will probably be much less than paying a lawyer if your weapon is stolen.
The best quality gun safes are generally made of solid steel. However, there are different types of steel available on the market.
It would help if you always opted for thicker and higher quality steels because the higher the quality of the safe, the greater the protection.
There are some downsides to thick steel: drilling a safe made of thick steel to the ground, or the wall, is much more complex than lower quality safes due to the quality of the steel.
You can buy gun safes at any store that sells guns. You can also find many on the Internet. Most online stores ship anywhere in Canada and the United States.
You might get a good deal if you buy the safe directly from a wholesaler, and even if you have to bear the shipping costs, it will be much cheaper than the total/original price of the gun safe at a retail outlet.
You may still get a lower cost than buying the safe at the total price.
Most of the safes available on the market are not fireproof. They are only fire-resistant. So if you have an extensive and valuable weapon collection, the extra amount spent on the safe will be worth it.
Ratings for fire-resistant safes are generally given by the degree of heat they can withstand and the length of time they can withstand the heat. However, whatever the size of the safe, the material the safe is made of must be thick enough to provide the required level of protection.
Protection is the Key
You should constantly evaluate the total profit we get from purchasing a particular gun safe and invest accordingly. Therefore, before buying a safe, you must decide by answering the following questions and choose your actions accordingly.
Should you go for a safe that requires keys to open or can work by turning lock codes?
When you choose a safe that needs a key to open it, you must remember that the keys to the safe need the same protection as the safe, while the code only needs to be memorized by the operator, so there is no possibility.
Of loss, or any type of problem to open the safe. That is why safes that come with rotary code locks cost more than gun safes operated with keys.
Hideout
Safes should always be stored in a place that is not ordinarily visible. However, it should be hidden in an area that the owner can easily access in an emergency.
There are two types of safes: wall safes and floor safes. Wall safes are those that are embedded in a wall. They can be hidden behind a painting, wallpaper, or even curtains. These safes have a longer lifespan compared to regular gun safes.
Ground Gun Safes
These safes need to be drilled or fixed to the ground, and like wall safes, the door is visible. Floor safes must be concealed with rugs, beds, cabinets, etc.
Normal safes
These safes are stored as little boxes and are used when portability is a concern. They are usually small and can be carried from one place to another. These safes should always be made of higher quality steel, which is thick enough to provide protection.
Gun Safe Alternatives
Gun safety sellers are often faced with this question: whether a gun safe is required when a gun already has a security feature like a gun lock. Also, gun locks make people feel complacent, giving a false sense of security.
It is quite true if one with the notion that it has a pistol lock thinks that they serve to prevent children from being in any danger since children are more likely to get their hands on guns.
But it should be noted that a better option for protecting your firearms is safe. The biggest drawback of a gun lock is the feeling that it lets enter people's minds that they are safe without a safe, and it allows them to be careless with their guns, which is not valid.
Indeed, children are better protected against accidental firing of gun locks. Although if you want, you will be better off if you think otherwise and opt for a safe to protect your firearms.
Additionally, gun safes provide a double benefit, as they not only protect children by keeping them away from guns, let alone shooting them, but they also offer firearm security against thieves.
To prevent thieves from taking guns, one should invest in an intense gun safe with thick walls every way, and a well-protected house bolted to the floor. Only this can store your loaded firearm in the safe. In addition to this, for situations where one needs to open their guns in seconds and quick access to the weapon is required, there are gun safes that come with glow-in-the-dark keyboard combination locks to serve this purpose and not.
In fact, for you, your children, and your property, that's much better security.
Final Thoughts:
Gun safes become necessary when you buy a lot of guns. However, if you plan to buy just one pistol, there are other alternatives available.