How Fast Does A Bullet Travel - Know The Facts About Bullet Speed.
Factors That Affect The Speed Of A Bullet - Average Bullet Speeds For Different Types Of Calibers.
Do you know how fast does a bullet travel? Wondering, how fast does your favorite bullet travels.
You probably already know that different calibers travel at different speeds.
A rifle bullet's speed is the fastest in between (1200 - 4000 feet per second). Shotgun calibers come with the approximate speed of (1200 - 1600 feet per second) & the slowest calibers are handguns with a speed(of 950 - 1500 feet per second).
Understanding bullet speed is crucial in firearms; you can better protect yourself and your loved ones.
This blog post will give detailed information about bullet speed, exploring its physics, common speeds, record-breaking velocities, and real-world effects.
This will help you choose the right caliber as per your requirement.
Understanding Bullet Speed
Understanding bullet speed is really very essential to get good shooting results.
Lets know about the basics of bullet speed.
Definition of bullet speed and its measurement units.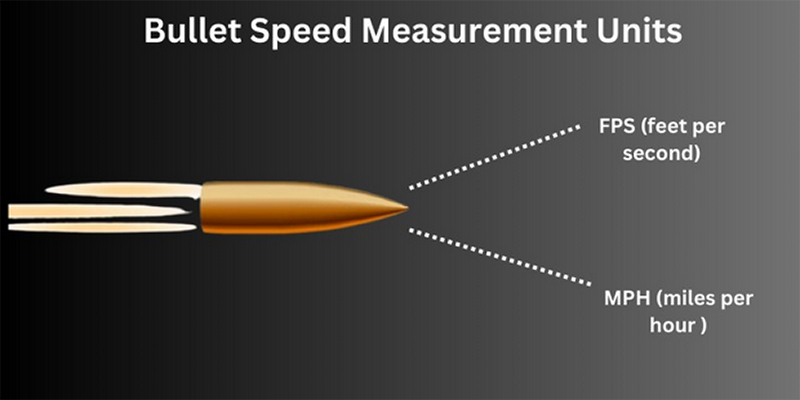 Bullet speed is a bullet's velocity as it leaves a firearm's muzzle. A bullet caliber determines its speed.
FPS (feet per second) and MPH (miles per hour) are the most common American measurements for bullets.
Several factors, including the type of firearm, the cartridge, and the barrel length, determine the bullet's muzzle velocity.
In general, higher muzzle velocity means the bullet will travel farther and hit with more energy.
However, other factors can also affect a bullet's performance, such as its weight and shape.
Main Factors That Impact Bullet Speed
Different types of bullets have different speeds. A bullet speed is impacted by various factors like; type of firearm, type of cartridge, length of the barrel & many more.
Let's discuss them in detail.
Important Factors To Measure Bullet Performance.
There are a number of factors that can be used to measure bullet performance. Some of the most important factors include:
Muzzle velocity
The muzzle velocity of a bullet is the speed at which it leaves the muzzle of the firearm. This is a significant factor since it affects the bullet's trajectory and energy level when it impacts the target.
Comparison of bullet speeds for handguns, rifles, and shotgun Calibers
Popular Rifle Calibers Bullet's Speed
Popular Pistol Calibers Bullet's Speed
Popular Shotgun Calibers Bullet's Speed
These are muzzle velocity for popular handguns, rifles, and shotgun calibers.
If, the calibers are missing in the above list, don't forget to check here: